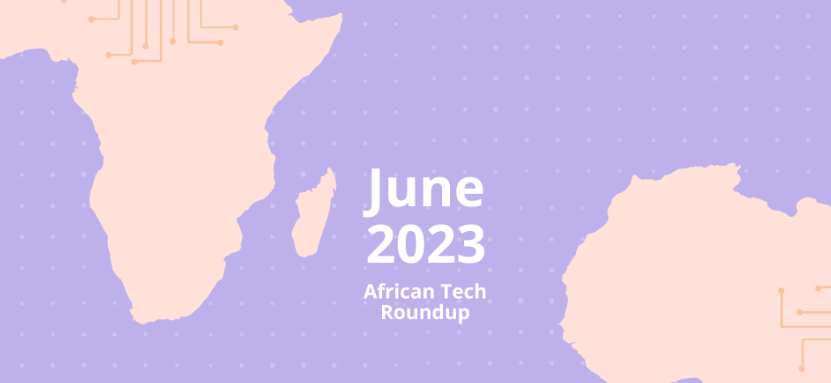 1. Funding: West Africa retakes lead in June 2023
In June 2023, African tech startups raised $126.2 million from 25 fully disclosed* raises.
The numbers show a 70% decrease compared to June 2022 where African startups raised $426.2 million. It's also a 79% decrease from May 2023 when the total amount raised was $621.8 million.
Per region, West African tech startups took the lead by a mile, accounting for 72%—$89.9 million—of the total disclosed funding. Year on year, raises by West African startups have increased by 13%.
Per sector, cleantech startups took the lead for the first time with 41% of the total amount raised—$52.3 million. Healthtech, logistics and fintech follow with $34.3 million, $11.5 million, and $10.6 million, respectively, in raises.
The top 5 disclosed deals of the month are:
Senegalese cleantech Africa REN's $35 million syndicated debt raise.

Nigerian fintech Helium Health's $30 million Series B raise.

South African cleantech Yellow Africa's $14 million Series B raise.

Nigerian fintech Fairmoney's $5.4 million raise.

Kenyan logistics startup Peach Cars $5 million seed raise.
*Note: This data is inclusive only of funding deals announced in June 2023. Raises are often announced later than when the deals are actually made. This data also excludes estimated grants from accelerators. This means that it also excludes a combined $4.3 million in grants received by 43 African startups: the 25 African startups who received the Google Black Founders Fund, the 12 edtech startups from the CcHub-Mastercard Edtech Fellowship, and the 6 African startups from Norrsken Accelerator Batch 2023.
2. Telecoms: Safaricom receives $257 million
In big telecoms moves, the International Finance Corporation (IFC) announced in June that it would invest Ksh21.8 billion ($156.9 million) in Safaricom, in exchange for 7.25% of the company's equity.
IFC will also loan Safaricom a further Ksh13.9 billion ($100 million).
In Ethiopia, where Safaricom has generated over $4 million since its October 2022 launch, CEO Anwar Soussa will be stepping down in July. He will be replaced by Wim Vanhelleputte who has served as CEO of MTN Uganda and MTN Côte d'Ivoire.
3. Fintech: Palmpay crosses 25 million users
In June, superapp Palmpay reached its 25 million users milestone in Nigeria.
The company announced the milestone at the end of the month, noting that it has an extensive network of 500,000 mobile money agents and 300,000 merchants in its payments ecosystem.
4. Legislation: Kenya passes Finance Bill
Kenya's Finance Bill is now law. June ended with President William Ruto signing in the new law which started taking effect from July 1.
The bill has intense ramifications for Kenya's tech ecosystem via taxation. Content creators, for example, will not have to pay a 1.5% tax for any form of payment they receive—including sponsorship, or earnings. There's also a 3% tax on the transfer of any digital assets—crypto.
Finally, digital lenders will remit a 20% excise duty on each loan interest that they charge.
5. Layoffs: Mara, Chipper Cash, Smile Identity, Eyowo and Twiga prune their staff
It's been a full year of layoffs in the African tech ecosystem. What started off with layoffs at Swvl in May 2022 has continued to sweep across the continent.
In June, five African startups revealed that they had laid off over 238 employees. Twiga, a Kenyan agritech, laid off 211 employees—including its entire sales team—in a "cost-cutting" move in 2022. Fintech Eyowo, which announced a pivot to a D2C model, also laid off 13 employees, while Smile Identity, a KYC startup that raised $20 million in February 2023, laid off 8 employees for similar reasons: macroeconomic conditions.
Fintech Chipper Cash executed its third round of layoffs, an undisclosed number which saw the exit of global chief operating officer Alicia Levine and Kenyan country director Leon Kiptum. Finally, sources at Web3 startup Mara, which raised $23 million in 2022, revealed that the startup laid off six people in May.
6. Big Deals: Flutterwave signs five-year deal with Microsoft
Meanwhile, fintech unicorn Flutterwave experienced a month of ups and downs.
On a good note, the fintech signed a five-year deal with Microsoft, which will see the company build a new generation of payment services on Microsoft Azure, powering payments infrastructure across the African continent. The company also confirmed, in June, that it's looking to deepen its presence on the continent as it moves towards an IPO.
On the downside, the fintech's problems in Kenya resurfaced as a Kenyan court froze 45 of its bank accounts and 10 mobile money wallets. The freeze came after 2,468 Nigerians sued Flutterwave for allegedly being the medium through which they were defrauded of Ksh1.6 billion ($12.04 million).
7. Load-shedding: South African companies blame Eskom for profit drop
As load-shedding in South Africa worsens, South African companies are blaming their profit declines on the electricity shortage.
Earlier in June, streaming company MultiChoice recorded a 200% profit decline, going from a R2.8 billion ($150 million) profit in the last financial year to a R2.9 billion($155 million) loss. At the same time, telecom Telkom's annual results showed a 76.6% profit loss which the company claims were due to load-shedding.
Finally, retail giant Mr Price reportedly lost R1 billion ($54 million) in revenue which the company says is an indirect impact of load-shedding.
These companies follow MTN and Vodacom, telecoms which earlier this year blamed their profit declines on South Africa's electricity crisis.
8. Crime: Tingo Group accused of fraud
June kicked off with a report from US-based investment research firm Hindenburg Research which accused Tingo Group, a Nigerian company, and its founder Dozy Mmuobuosi of fraud and misrepresentation.
Per the report, Tingo's claim that its telecoms arm generated $128 million in revenue in Q1 2023 is false. Hindenburg also debunked Tingo's claim that its agricultural export business, Tingo DMCC, was on track to deliver over $1.34 billion in 9 months. The report also showed that photos of Tingo's airline business, Tingo Airlines, were photoshopped.
Days later, Tingo denied all accusations and announced that it would undergo independent research with transnational law firm White & Case LLP at the helm of its investigation.
9. Economy: Somalia launches QR code
In June, the Central Bank of Somalia launched a Quick Response Code (QR code) standard—the SOMQR—to facilitate cashless payment across the country. The move may not drive financial inclusion in the country though, as internet and smartphone penetration in the country are less than 13% and 8.6% respectively.
This move comes a month after Kenya launched its own QR Code.
10. Internet: Senegal blocks its internet again
In June, Senegal shut down its internet again.
Starting from June 1, several social media platforms, including WhatsApp, Instagram and YouTube, faced serious access restrictions in Senegal. This blockage came after violent protests began when an opposition leader, Ousmane Sonko, was sentenced to two years in prison for rape.
By June 2, interior minister Antoine Diome acknowledged the blockages, citing "the dissemination of hateful and subversive messages on social networks". Although access was restored after two days, the occurrence marked Senegal's second internet shutdown in three years.
11. Mobility: E-hailing drivers in Nigeria strike
June saw Nigeria's tech economy battle with the effects of fuel subsidy removal.
On the mobility side, several logistics companies announced price hikes. E-hailing companies—Bolt and Uber—slightly reviewed their prices upwards, but the drivers, led by the Amalgamated Union of App-Based Transport Workers of Nigeria (AUATWON) rejected the pricing.
The drivers, who are threatening an indefinite strike, have requested a reduction in the companies' 20% commission, along with a minimum 200% fare increase by ride-hailing companies.
12. Cybersecurity: Showmax hacked and Heritage Bank's insider fraud
Two South African companies were hacked in June.
First, hackers reportedly broke into MultiChoice's streaming platform Showmax and made public over 27,000 usernames and passwords of people who use the platform, a claim Showmax denied.
In Nigeria, meanwhile, commercial bank Heritage Bank reportedly suffered an insider hack where the bank's Head of IT made off with ₦49 billion ($83 million) in customer funds, a claim the bank refuted. Another Nigerian bank, Globus Bank, revealed that it suffered a hack in 2022 in which hackers took advantage of a USSD glitch to withdraw over ₦1.75 billion ($2.9 million) in customer funds.