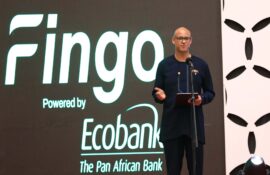 Kenyan fintech start-up Fingo has partnered up with Ecobank Kenya, part of pan-African banking group Ecobank Group, to launch the new Fingo Africa banking app.

Ecobank says the Fingo Africa app aims to drive financial inclusion among young people in Kenya by enabling them to open a bank account on their mobile phones in "less than four minutes" as opposed to traditional lengthy processes which can take "two days to two weeks".
The app will also cut down the cost of money transfers by allowing users to send money to other Fingo users for free and to M-Pesa users at subsidised rates. Additionally, customers can also pay their bills through the app, save their money and set saving goals, and create and send payment links to receive payments.
The app is currently available for users in Kenya, with a wider rollout planned for the future across the 33 African countries where Ecobank is present.
Jeremy Awori, CEO of Ecobank Group, says the app "brings many young people into the mainstream financial sector and caters to their needs and preferences".
"By simplifying access to finance, it overcomes the entrenched issues that have often acted as barriers to entry for young Africans," Awori adds.