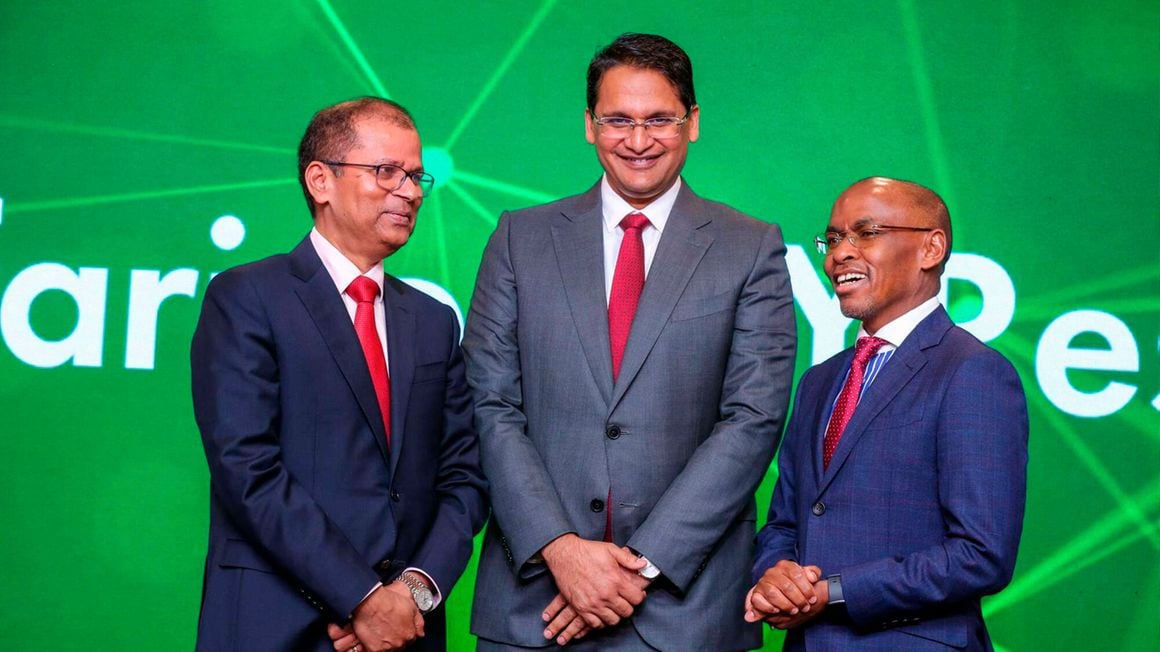 The share of M-Pesa in Safaricom mobile service revenue has deepened to 41.5 percent as earnings from voice and text messaging came under pressure from applications such as WhatsApp.
Safaricom's mobile service revenue in the financial year ended March 2023 grew by 4.6 percent to Sh282.23 billion, with M-Pesa accounting for Sh117.19 billion or 41.5 percent compared with 39.9 percent in the previous year.
The latest share of M-Pesa in mobile service revenue is the highest in the history of the telco and has come on the back of the share of voice and SMS revenue declining due to customers' growing preference for internet calls and messaging apps such as WhatsApp.
Voice and messaging – which were for years the mainstay of the company –five years ago commanded 47.2 percent of mobile service revenue while that of M-Pesa was at 31.2 percent. This was when voice revenue hit the peak of Sh95.94 billion.
Safaricom chief finance officer Dilip Pal said on Thursday during the release of financial results for the year ended March 2023 that voice and messaging continue to face competition from new technologies, hinting at the continued decline in its contribution to revenue.
"This revenue stream is under pressure and has remained under pressure for a long time. In the long run, these two revenue lines may follow a similar trend that you may have seen in mature markets," said Mr Pal. "We are very much committed to ensuring that we maintain our market share and defend it. We have been optimising our pricing over the years to ensure that we drive affordability and usage."
M-Pesa has grown to become the top revenue earner for the telco which in the review period posted Sh92.43 billion as revenue from voice and SMS, down from Sh94.09 billion in the previous year to account for 32.9 percent of the service revenue.
Safaricom said M-Pesa revenue grew by 8.8 percent to Sh117.19 billion supported by increased usage and growth of chargeable transactions.
Voice revenue declined 2.6 percent to Sh81.05 billion taking its share in service revenue to a new low of 28.72 percent. Voice was in 2016 making 51.1 percent of Safaricom's service revenue while M-Pesa was at 23.3 percent.
The drop in voice revenue, added to increased operating expenses higher provision for expected credit loss and increased depreciation and amortisation costs saw the telco's net profit fall by 22.2 percent to Sh52.48 billion from Sh67.49 billion.
Safaricom's profit fall is for the third straight year from the peak of Sh73.66 billion in the year ended March 2020 and becomes the lowest for the telco since 2017 when net earnings were Sh48.44 billion.
We faced increased regulatory pressure, specifically the drop in mobile termination rates. Our customers also had lower disposable income and are seeking more value and better experience in our products and services," said Peter Ndegwa, CEO at Safaricom.
MTR, which are the charges levied by a mobile service provider on other operators for terminating their voice calls on its grid, was in August last year cut from Sh0.99 per minute to Sh0.58 per minute.
Safaricom's total revenue, which includes streams such as M-Pesa, voice, SMS, mobile data, home internet and sale of handsets, grew 4.3 percent to Sh310.9 billion.
M-Pesa share in total revenue look set to grow further after the telco announced on Thursday that it had received approval to launch mobile money services in Ethiopia. Mr Ndegwa said the telco is targeting to launch before the end of June.
Operating costs hit Sh74.09 billion from Sh55.2 billion, highlighting the high start-up costs of Ethiopia operations where the telco started commercial operations in October last year.
Depreciation and amortisation costs jumped from Sh39.93 billion while net finance costs hit Sh7.1 billion from Sh6.4 billion partly on the continued weakening of the shilling against the dollar and the more than doubling of borrowings from Sh20.4 billion to Sh43.5 billion.
Safaricom, which had paid an interim dividend of Sh0.58 per share amounting to Sh23.24 billion, has proposed a payment of Sh0.62 per share amounting to Sh24.84 billion in the last week of July.
The final payout will bring the total dividend for the year to Sh48.08 billion compared with Sh55.69 billion that was paid in the previous year.